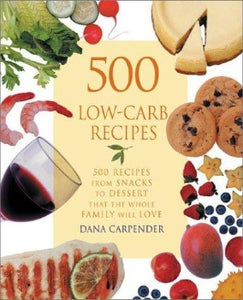 Condition: Very Good
500 LOW CARB RECIPES has more than enough recipes to keep a dieter on track. With low carb recipes for everything including hors d'oeuvres, snacks, muffins, side dishes, entrees, cookies, cakes there is an endless supply for creating meals for the whole family. There are more recipes for main dishes and side dishes -everything from down-home cooking to ethnic fare; from quick-and-easy weeknight meals to party food.
An entire chapter lists and describes low-carb substitute ingredients such as fats and oils, flour substitutes, liquids, seasonings and sweeteners.  Each of the 500 recipes includes a carbohydrate count to help calculate the total carb intake of each menu. 
Publishing Details
Paperback: 504 pages
Fair Winds Press (Oct. 1, 2002)
ISBN-13: 978-1931412063
Dimensions: 19.05 x 3.18 x 23.18 cm
Weight: 998 g