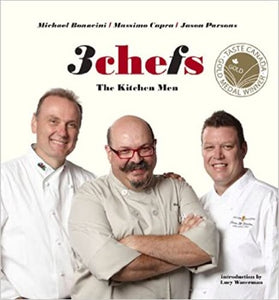 The flair of its authors and their varied background and influences combine to make 3 Chefs: The Kitchen Men A Taste Canada Gold Medal winner, truly special. 

Clear, step-by-step instructions from professional chefs take even the most inexperienced cook through every course of the meal, from appetizers to desserts.
Although the 126 recipes are of the highest quality, the book doesn't take itself too seriously, with illustrations of the chefs doing battle with pots and rolling pins, and photographic evidence of the light-hearted mischief the actual chefs got up to while testing the recipes. 
Publication Details
Hardcover: 288 pages
Black Walnut Media (Oct. 1, 2014)
ISBN-13: 978-1897330722
Dimensions: 21.6 x 2.8 x 20.3 cm
Weight: 1.29 kg