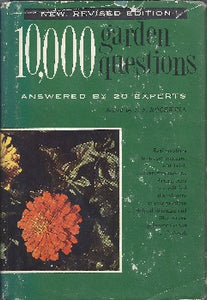 Condition:  Very Good Vintage - The text has no markings, a tight spine and all pages intact.  Dust Jacket has shelf-wear, edge tears that have been repaired.
Volume 2 of 10,000 Garden Questions provides answers to questions related to home vegetable patches, fruit trees and, house plants.  Furthermore, it provides answers for plant troubles and control, regional garden problems and references for further information.  
Any gardening enthusiast will enjoy this informative compendium of gardening questions and answers.  The text throughout is generously supplemented by line drawings.  They assist greatly in helping the reader to grasp the full details of the answer.  
Publishing Details
Hardcover: 686 pages
Doubleday & Company; 
(1959)
ASIN: B000S977TA
Dimensions: 15.0 x 4.4 x 21.5 cm
Weight: 710 g