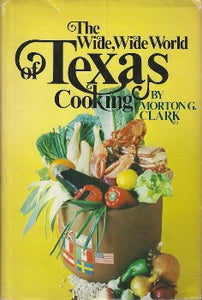 Condition: Like New Text appears unread. Dust jacket -Very Good -minor shelf wear. 
Certain foods are representative of Texas cuisine such as pinto beans, tamales, and bar-b-que. This book contains a variety of recipes uniquely Texas.  A must-have for the transplanted Texan or any fan of Lone Star cooking.

"A Texas cookbook that demolishes the myth popular elsewhere that cooking in the Lone Star State consists solely of barbecued steaks and chili. This unusual cookbook presents 340 dishes that reflect the state's colorful mixture of peoples." - BooksForComfort 2007.
Publishing details

Funk & Wagnalls; 1st Edition. (Jan. 1 1970)
ISBN-13: ‎978-0517120088
Dimensions: 14.5 x 3.4 x 21.8 cm
Weight: 748 g