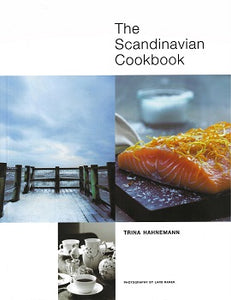 Condition: Very Good  Text appears unread in pristine condition.  Top edge of rear cover has minor shelf-wear.
The Scandinavian Cookbook, brings the essence of Scandinavia to the table.  Trina Hahnemann offers a modern twist on Scandinavia's traditions with dishes organized by the calendar month. Her progressive take celebrates the region's rich traditions of family meals and festivals with simple recipes made from healthy ingredients. This book provides a sampling of the seasons with recipes for an entire year's worth of easy-to-prepare main courses, sides, and desserts. 
Lars Ranek's lavish food and landscape photography uniquely showcases the beauty he finds in the food and culture of Scandinavia.

Publishing details
Quadrille Publishing; (2010)
Paperback: 224 pages
ISBN-13: ‎978-1844008353
Weight: ‎1.1 kg
Dimensions: ‎21.7 x 1.8 x 28 cm