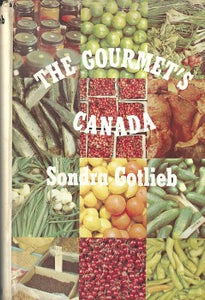 Condition:

Vintage Like New
-Text no markings, Binding tight. Appears unread. Dust Jacket -Very Good  -has edgewear, minor rubbing and chipping on the top and bottom of spine.
The Chapters include:
The Education of a Fussy Eater;

The Canadian Gourmet: Patriot and Prophet;

What to Eat and How to Cook It - A Cross Canada Tour;

The Atlantic Provinces - from Cape Onion to Eel River Crossing;

Quebec - from Lac au Saumon to Oka;

Ontario - from Apple Hill and Maple Lake to Sturgeon Falls and Whitefish Bay;

The Prairies - from Duck Bay to Blueberry Mountain. 
Publishing details
New Press; First Edition (Jan. 1 1972)
Dimensions:  14.8 x 2.8 x 22.4 cm