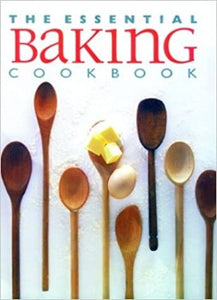 Condition: Like New Exceptional condition Appears as unread.
The Essential Baking Cookbook offers over 500 step-by-step photographs that guides the reader through many tricky culinary techniques.  This is the book perfect for bakers of all ages and abilities.
Beautifully photographed glossaries show unusual ingredients and food varieties with their common and not-so-common names. Snippets of history related to the dishes add interest while colourful double-page features provide a wealth of information on buying, storing and preparing some of the more unusual ingredients. Included is a comprehensive pictorial guide to essential equipment with detailed instructions on the best ways to use and maintain them.  

Publishing Details
Hardcover: 304 pages
Thunder Bay Press (Aug. 1, 2003) 
ISBN-13: 978-1592230020
Dimensions: 21.59 x 1.91 x 29.21 cm
Weight: 1.54 kg
Oversized title shipping charge: $6.95