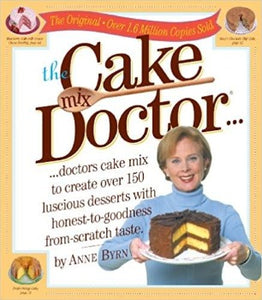 Condition: Like New Best Seller
The Cake Mix Doctor shows that by doctoring up packaged cake mix with-a touch of sweet butter here, cocoa powder there, or poppy seeds, vanilla yogurt, sherry, eggs, and grated lemon zest for the Charleston Poppy Seed Cake--even the least experienced baker can turn out luscious signature desserts.  From Toasted Coconut Sour Cream Cake to Devilishly Good Chocolate Cake; Caramel Cake and a Holiday Yule Log to cheesecakes, coffee cakes, sheet cakes, pound cakes, bars, brownies, and frostings, here are 175 fast, foolproof recipes. 
 Anne Byrn creates recipes that employ a cake mix's strengths---convenience, ease-of-use, dependability.  But without any of the fuss of baking from scratch..  In addition to the recipes are all illustrated in a color photographic insert.
Publishing Details
Paperback: 464 pages
Workman Publishing Company (Jan. 11 1999)  
ISBN-13: 978-0761117193
Dimensions: 18.03 x 2.39 x 20.32 cm