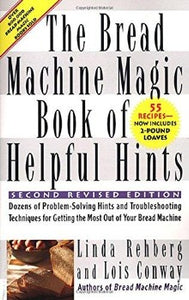 Condition: Like New
 Linda Rehberg and Lois Conway are among the most popular bread machine authors. In this second revised edition of The Bread Machine Magic, they update all 55 recipes to accommodate two-pound machines.  In addition, they offer expert troubleshooting techniques and helpful hints including how to:
alter the ingredients, yeast, crust settings, and baking cycles
adjust for higher altitudes and specific weather conditions
reduce or eliminate salt, fat, sugar, cholesterol, dairy, and gluten
The Bread Machine Magic Book of Helpful Hints is the guide for every bread machine owner.
Publishing Details
Paperback: 256 pages
St. Martin's Griffin; Second Edition (Nov. 29, 1999) 
ISBN-13: 978-0312241230
Dimensions: 15.6 x 1.7 x 23.6 cm
Weight: 352 g