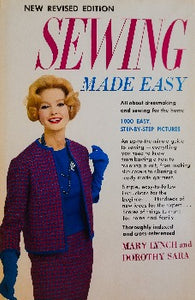 Condition: Very Good - Copy is clean -no marks of any kind.  The spine is undamaged and the binding is tight.  No edgewear.  The jacket has some yellowing and a few small tears at the edges. 
In Sewing Made Easy, a beginner will get detailed yet easy-to-follow instructions making it easy to work along with any pattern selected.  Beginners will be mastering all the fundamental steps in sewing, altering, or restyling a garment. The experienced sewer will welcome the short cuts and new tips and techniques that give that custom look to your sewing. Special adjustments are explained, as well as the tailoring steps. 
Chapters on sewing children's clothes, accessories and gifts to make, and sewing for the home contribute to making Sewing Made Easy an indispensable book for anyone who sews or is eager to learn.  1000 easy step by step photos.

What's New in the Vintage Shop
Publishing Details
Hardcover: 403 pages
Garden City Books (Jan. 1, 1960)
ASIN: B0007ELJSQ
Dimensions: 14.5 x 3 x  21.5 cm
Weight: 556 g