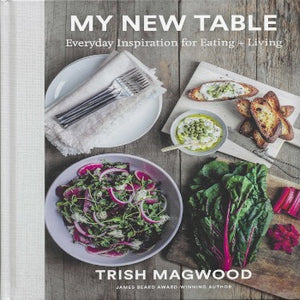 Condition: Like New Best Seller
The recipes in My New Table use fresh, local ingredients that follow the rhythm of the seasons, paired with simple preparations so that their natural flavours shine. Trish's ingredient-driven recipes suit any day of the week—from midweek evening dinners, to leisurely weekend get-togethers.  Trish has created recipe collection, featuring interiors, and lifestyle photography throughout. In this book, she shares her inspirations, for both food and style, from life in the city and at home on the farm.
 
My New Table invites you to gather your loved ones around the table, and enjoy the simple pleasures of everyday eating and living together.
Publishing details
Appetite by Random House (October 26, 2021)
Hardcover: 288 pages
ISBN-13: 978-0525611240
Weight: 1.2 kg
Dimensions: 20.83 x 2.39 x 26.01 cm