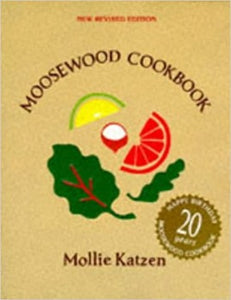 Condition: Like New  -Clean and Crisp text. Appears unread.
In 1974, Mollie Katzen hand-wrote, illustrated, and locally published a spiral-bound notebook of recipes for vegetarian dishes inspired by those she and fellow cooks served at their small restaurant co-op in Ithaca, NY. With her sophisticated, easy-to-prepare vegetarian recipes, Mollie has introduced millions to a more healthful, natural way of cooking.
The Moosewood Cookbook has become one of the most influential and beloved cookbooks of all time—listed by the New York Times as one of the best-selling cookbooks in history, inducted into the James Beard Award Cookbook Hall of Fame and inspired generations to fall in love with plant-based home cooking.  
Publishing Details
Paperback: 235 pages
Ten Speed Press; Revised edition (August 1, 1992)
ISBN-13: 978-0898154900
Dimensions: 21.7 x 1.7 x 27.8 cm
Weight: 632 g