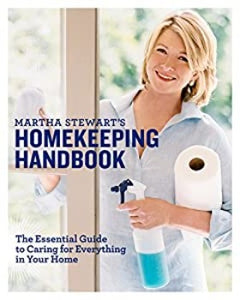 Condition: Very Good +  Has a neatly written inscription front free-endpaper.  Appears as unread. The acrylic dust jacket has some shelfware. 
Martha Stewart's Homekeeping Handbook is a  comprehensive resource that not only tells how to keep your home beautiful and livable, but it also simplifies the process. 
This book far more than just a compendium of ways to keep your house clean. It covers everything from properly executing a living room floor plan to setting a formal table; from choosing HEPA filters to sealing soapstone countertops; from organizing your home office to polishing your silver and caring for family heirlooms.
Publishing Details
Hardcover: 752 pages
Publisher: Clarkson Potter (Oct. 31 2006)
ISBN-13: 978-0517577004
Dimensions: 19.7 x 5.3 x 24.1 cm
Weight: 2.71 Kg