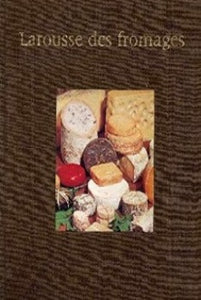 Condition: Vintage Like New- There is a small abrasion on the front fore page where the name label was removed.  The text is clean and crisp with no markings.  

Larousse des fromages is a compendium of cheese history in a dictionary format. Included are recipes and wine pairings.  Beautifully illustrated with both black and white and colour photographs, and drawings and lithographs -this is a rare collectable. 
In 1952, Courtine joined Le Monde where, using the pen name "La Reynière" (inspired by the 17th-century food critic Grimod de La Reynière), he wrote the gastronomy column until 1993.
Publishing details
Hardcover: 253 pages
French Edition
Librairie Larousse (Canada) First edition (January 1, 1973)
ISBN-13: 978-2030190128
Weight: 1.22 kg
Dimensions:  23.4 x 2.8 x 26.7 cm
Oversized title shipping charge: $6.95