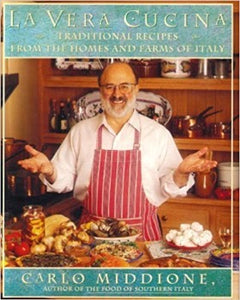 Condition: Very Good+ Pages are clean crisp and not marred by notes or writing. The binding is tight. The spine is undamaged. The previous owner's name neatly inscribed on the front pastedown otherwise exceptional conditions.  Like New -Dust Jacket'  

In coaching readers to cook "real Italian," Middione offers heirloom recipes that celebrate the variety, heartiness, and simplicity of traditional home and farm-style Italian cooking.  Middione includes over 200 recipes, from antipasti through dolci. Headnotes for each provide anecdotes, information on a dish's origin or suggestions for menus or leftovers. Risotto with Porcini Mushrooms and Vermicelli with Anchovies are examples of good food made quickly from on-hand ingredients. 
Ingredients are few and techniques are simple, with an emphasis on high quality and careful attention to the cooking process. In La Vera Cucina,  Middione's concern for ingredients and techniques and his emphasis on "eating for the sheer joy of it" combine to create the essence of Italian food.  
Publishing Details
Hardcover: 367 pages
Simon and Schuster; First Edition (May 1, 1996)
ISBN-13: 978-0684812069
Dimensions: 20.3 x 3.8 x 25.4 cm
Weight: 954 g