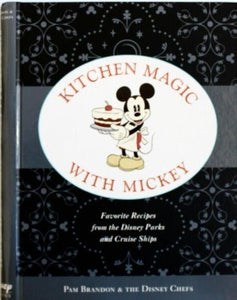 Condition: Like New
With the recipes inside Kitchen Magic with Mickey, guests can recreate their most treasured Disney dining moments in their own kitchens.
Prepare the spicy, creamy Butter Chicken and be instantly transported to Disney's Animal Kingdom Lodge. Bake Pumpkin Cheesecake and feel the gentle Caribbean breeze. Shake up a Cucumber Lychee Fizz; the Hawaiian sunshine is just one sip away.
All it takes are a few simple ingredients: this cookbook, and a pinch of pixie dust. Delicious appetizers, soups, salads, entrées, sides, and desserts from Disney's most popular and celebrated restaurants are just a mixing bowl away. This cookbook from Disney Parks and Disney Cruise Line Services is the perfect way to cook up your favourite memories. 
Publishing Details
Hardcover with spiral binding
Disney Editions,  1st edition (2014) 
ISBN-13: 978-1423173380
Dimensions: 17.9 x 12.7 x 2.5 cm
Weight: 818 g