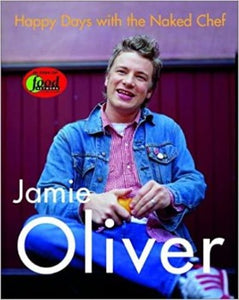 Condition: Like New - Minor edgewear on Dust Jacket.
Jamie Oliver believes in finding the best ingredients and making tasty, easy, social meals. Happy Days with the Naked Chef is filled with salads, pastas, meat, fish, breads, and desserts for all occasions.
 In 'Comfort Grub' Jamie gives you his contemporary twists on old favourites, and in 'Quick Fixes' he whips up easy dinners. The 'Kids' Club' chapter is all about involving your kids in your cooking, like having them squash fresh tomatoes for pasta, pit olives, and knead and shape bread. For Jamie Oliver, food is all about Happy Days--good fun and great eating.
Publishing Details
Hardcover: 320 pages
Hachette Books; (Oct. 9 2002)
ISBN-13: 

978-0786868520

  
Dimensions: 20.3 x 3.2 x 25.4 cm
Weight: 1.3 kg