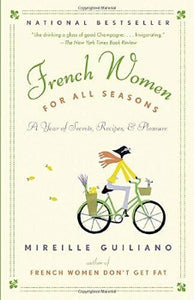 Condition:  Like New
Readers of Mireille Guiliano's bestseller French Women Don't Get Fat have inundated her with requests for more advice. Her answer: French Women for All Seasons, with tips and tricks for living with the utmost pleasure and style, without gaining weight.
The French woman's way is an all-encompassing program that can be practised anytime, anywhere. Here are four full seasons of strategies for shopping, cooking and moving throughout the year.  And there are 100 new simple and appetizing recipes that feature French staples such as leeks and chocolate and many more unexpected treats.

Woven through this year of living comme les françaises are more of Mireille's delectable stories about living in Paris and New York and travelling just about everywhere else.
Publishing Details
Paperback: 368 pages
Vintage Canada (April 7, 2009)
ISBN-13: 978-0679314905
Dimensions: 13 x 1.9 x 20.3 cm
Weight: 354 g