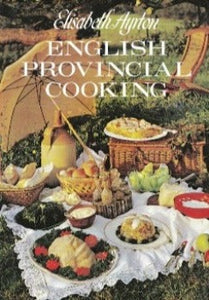 Condition: Vintage Like New -appears unread.  Dust jacket has minor edge wear and shelf wear. 
English Provincial Cooking contains recipes selected from family records old manuscripts & cook books. It covers regional specialties (some highly unusual), with their origins (usually Medieval to 19th Century - but in a few cases, back to Roman Britain).
Ayrton starts each chapter with a discussion of the specific region of England: East Anglia, The North, Midlands, West Country, South and Southeast, Home Counties, and London. These go into a fair amount of detail on the general origins of cooking traditions by region, based on terrain/agriculture, trade, and culture.  There are also interesting digressions about such topics as primitive cooking and shipboard foods (including treatments for scurvy - beyond the usual lime juice).  Ayrton frequently includes the first written mention of a dish with the recipes. ~ from abridged reader review.
Publishing details
Hardcover:
Mitchell Beazley (Jan. 1, 1980)
ISBN-13: 978-0855332174
Weight: 841 g
Dimensions: 18.4 x 2.3 x 26.7 cm