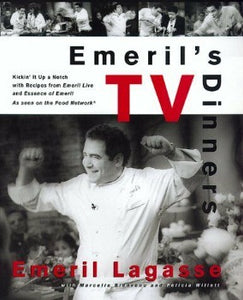 Are you ready to kick it up notches unknown to humankind? Emeril's TV Dinners is a collection of Emeril's favourite recipes from both shows.
Memories like St. John's Kale Soup, Roasted Scrod with Parsley Potatoes, and Boston Cream Pie with his mom, Hilda, to Louisiana specialties like Creole Spiced Blue Crabs with Green Onion Dipping Sauce, Fried Eggplant with Shrimp Stew-Fay, and Blueberry Beignets.

There are starters like Caramelized Salmon with Cilantro Potato Salad and Stuffed Morels with Crawfish Remoulade. Plus there are salads like Herb-Tossed White Asparagus, Fresh Crabmeat, and Grilled Radicchio Salad, Emeril's BLT Salad, and Molasses Duck Salad. More comforting choices like Homemade Bacon, French-Fried Sweet Potatoes, Smothered Oxtails, Spinach and Sweet Corn Mash and Pan-Roasted Filet Mignon are included. 

Emeril's TV Dinners not only includes more than 150 recipes but also candid black-and-white photography of Emeril behind the scenes.

Condition: Used Very Good Although Appears as Unread several recipes are annotated with small stars.  Minor shelf wear.
Condition: Used Very Good-  Appears Unread.  Has a dedication inscribed on front end fore-paper. Minor shelf wear.  
Publishing Details
Hardcover: 288 pages 
Publisher: William Morrow Cookbooks; 1st edition
ISBN-10: 0688163785
ISBN-13: 978-0688-16378-5
Product Dimensions: 7 x 0.8 x 9.2 inches
Shipping Weight: 816 g