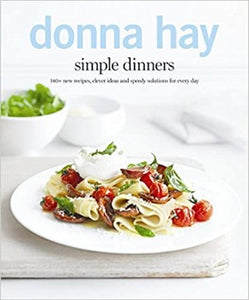 Condition: Like New  -Unread. Minimal rubbing on the cover. 
Donna Hay's simple dinners will show you how to take everyday ingredients and turn them into quick and easy meals.
Donna has always been of the school that if you have an egg in the fridge, you have a meal on the table. She takes the same approach to pantry items and fresh staples, from bread and pasta to canned beans and couscous. 
Divided into 13 chapters and categorized by a simple ingredient as the starting point, simple dinners also provide handy tips and time-saving hints. There are over 140 new recipes that celebrate everyday kitchen ingredients.  Trademark full-page illustrative photography makes Donna Hay's cookbooks in our collections truly inspiring. 
Publishing Details
Paperback: 208 pages
HarperCollins Publishers; (2011)
ISBN-13: 978-1443416559
Dimensions: 24.8 x 1.9 x 29.8 cm
Weight: 1.3 Kg