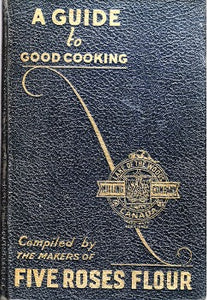 Condition: Very Good +  Bound in navy buckram over boards with bright gold lettering on the front, an illustration of a bag of Five Roses Flour to the rear board. Text is clean and unmarked. Spine and binding tight. Previous owner's on front endpaper and rear back board.  
"First published in 1932, A Guide to Good Cooking followed the earlier success of Five Roses Cook Book, first published in 1913 featuring a new collection of recipes. The introduction states: "Twenty years ago [i.e. 1912], Lake of the Woods Milling Company, Limited decided that the most useful cookbook for Canadian housewives should be written by the housewives themselves. Recipes were collected from all over Canada, tested and compiled in the Five Roses Cook Book". "Great changes have taken place during the past two decades, and with this in mind, we decided to publish a more complete and up-to-date cook book. Another appeal was therefore made to Canadian women - and thousands of recipes and suggestions were received. We now offer this work - "A Guide to Good Cooking" - the new Five Roses Cook Book". ~ from text

This copy is complete with endpapers featuring the original printed coupons for ordering the book upon remittance of $.40 cents. Various black and white illustrated title headpieces, four double-sided coloured photos illustrations of various baked goods and savoury dishes. This is a rare first edition, first printing of this collectable Canadiana. 

Publishing Details
Hardcover: 162 pages
Lake of the Woods Milling Company, First Edition, First Printing (1932)
Dimensions: 16.1 x 1.1 x  22.7 cm
Weight: 286 g