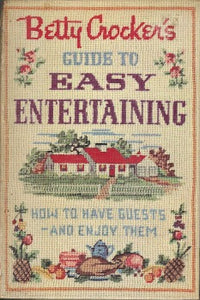 Condition:  Good +  Text is clean and unmarred.  The top of the spiral hinge has a tear and the cover has minor staining. The edges and corners are in very good condition.  
In 1959
Betty Crocker's Guide to Easy Entertaining
was an indispensable guide.  Reading this book is a nostalgic snapshot of an earlier era.   It includes 
Great ideas for a wide range of get-togethers, from dinners and buffets to barbecues, brunches, and potlucks
89 recipes, 208 delightful and whimsical illustrations, and 11 colour photographs
A wonderful fun collectable containing advice that is still useful and relevant after all these years!
Publishing details
Hardcover: 176 pages
Golden Press,  First Edition, Second printing, (Jan. 1, 1959)
ISBN-13: ‎978-0307096111
Weight: ‎254 g
Dimensions: 14.7 x 1.6 x 19.9 cm