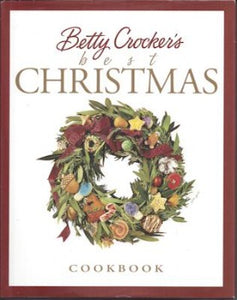 Condition: Very Good -appears unread.  The back of the dust jacket has minor shelf wear.  Best Seller
Betty Crocker's Best Christmas Cookbook is a collection of holiday recipes, including appetizers, main dishes, sides, salads, bread, cookies, candies, desserts, kids' favourites, and holiday gifts. It's full of fresh and inspiring ideas for easy, yet impressive, holiday entertaining.
Every Christmas topic is covered: from party appetizers, drinks and merry main dishes to a cascade of cookie recipes and edible and non-edible food gifts to make any holiday sparkle. Plus, every recipe in the book is photographed to help you recreate the results in your own home.  You'll also find creative new serving and decorating ideas for a memorable holiday season. Furthermore, you'll find a host of tips and photos for at-a-glance ideas that will help make all your festivities shine.
Publishing Details
Hardcover: 352 pages
Betty Crocker, (Sept. 21, 1999)
ISBN-13: 978-0028634654
Dimensions: 20.92 x 2.2 x 26.21 cm
Weight: 1.2 kg

Oversized title shipping charge: $6.95