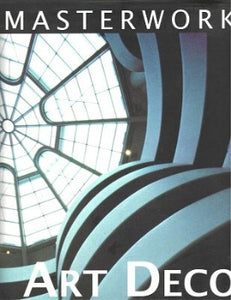 Condition: Very Good + Text and photo plates in like new condition. The dust jacket has minor rubbing at corners. 
In the years following the drudgery of the First World War, Art Deco came to represent the refreshing energetic and optimistic outlook of the machine age. Bold geometric patterns and streamlined, aerodynamic shapes dominated the worlds of product and graphic design, architecture, and the fine arts of sculpture and painting.

Art Deco is a collection of 80 Master-works by artists and designers such as Tamara de Lempicka, Clarice Cliff and Frank Lloyd Wright will inspire those familiar with the subject and enthusiastic newcomers alike.
Publishing details
Series: Masterworks; (Jan 1, 2008)
Hardcover: 96 pages
ISBN: 9781906734077
Dimensions: 30.0 x 30.0 x 2.2 cm 
Weight: 1.2 kg
Oversized title shipping surcharge $6.95
Oversize shipping surcharge of $6.95