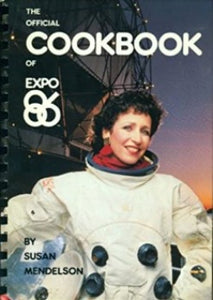 Condition: Very Good -has a small crease on the lower front corner, otherwise appears as Used Like New condition. 
The Official Cookbook of Expo 86 was created as a souvenir of this event.   So welcome to Vancouver!   On the West Coast, the emphasis is on food that is simple light and fresh. In this book look for easy to prepare recipes for fish and seafood particularly salmon, halibut and red snapper.  You will find pasta, pizza and quiche recipes, and hot and cold hors d'oeuvres.   Look for an extensive section entitled Restaurant Favorites, a guide to the multi-ethnic mix of restaurants in Vancouver with recipes as an invitation to enjoy the diversity of these dishes.  There is also an indulgent dessert section within this souvenir of your visit.
This book is would be a welcome addition to a Canadian cookbook collection.  
Publication Details
Plastic Comb: 128 pages
Whitecap; First Edition edition (1986)
ISBN-13: 978-0920620854
Dimensions: 24.1 x 17.8 x 2 cm
Weight: 272 g