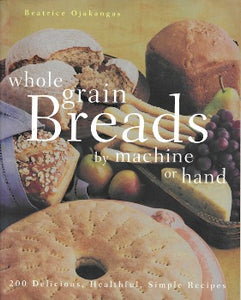 Condition: Good  -  Minimal shelf wear.   Minor highlighting and staining on a few pages. 
"Possibly the best such bread book on the market . . . every recipe a winner."-New York Times

Whole Grain Breads by Machine or Hand gives new and experienced bakers the freedom and flexibility they need to make excellent homemade loaves, with more than 190 recipes that range from a simple Sourdough Bread to a fancy Finnish Cardamom Coffee Braid. Celebrated as a "reliable and inventive recipe writer" by Publishers Weekly, Beatrice Ojakangas shares four ways to make each delicious whole-grain recipe step by step: by hand, mixer, food processor, and bread machine.
Publishing Details
Wiley Publishing, First edition (1998)
Paperback: 394 pages
ISBN-13: 978-0764538254
Dimensions: 18.73 x 2.69 x 23.18 cm
Weight: 705 g